Congratulations on your pregnancy and discovering the Bradley® Method of Natural Childbirth!
My Bradley classes cover virtually ALL aspects of pregnancy, childbirth and beyond! This comprehensive class prepares you to be an intelligent consumer of birth services. As an informed couple you will arrive at your birth with the confidence, knowledge, and skills to accomplish your birth goals.
Susan Rotman is the only Bradley instructor in North Carolina with Advanced Certification!
Susan's classes are safe and accepting of ALL!
Classes include:
Keys to a healthy pregnancy and successful labor through proper nutrition, exercise and relaxation
Learning to understand labor and how to cope with it
Role play and labor rehearsal
Introduction to breastfeeding and tips for success
Postpartum and newborn care
American Red Cross® Infant CPR training
An extensive weekly email will follow each class with notes, links, articles and information to support the topics discussed
Each couple will receive a CD wallet with over 10 hours of relaxation and guided imagery to take home and download onto their personal devices.
Copies of Husband Coached Childbirth, by Robert A. Bradley, M.D., Natural Childbirth The Bradley Way, by Susan McCutcheon and the official student workbook are provided for each couple.
There will be a number of books, CDs and DVDs on a variety of prenatal, birth, exercise, yoga, and relaxation topics for your use.
There is usually a visit from one of my prior couples for a shared birth story.  It is wonderful and confidence building to see a real baby and hear the details of another couples recent birth accomplishments.
I host an annual reunion potluck for sharing stories and showing off babies! Great fun!
Husband Coached Childbirth
by Robert A. Bradley, MD
Natural Childbirth the Bradley Way
by Susan McCutcheon
Gentle Birth, Gentle Mothering
by Sarah J. Buckley, MD
Mind Over Labor
by Carl Jones
The Post-Pregnancy Handbook
by Sylvia Brown and Mary Dowd Struck
Prepared Childbirth the Family Way
by Amis, Debby, and Jeanne Green
Ina May's Guide to Childbirth
by Ina May Gaskin
Obstetric Myths Versus Research Realities
by Henci Goer
The Thinking Woman's Guide to a Better Birth
by Henci Goer
Gentle Birth Choices
by Barbara Harper
Birthing From Within
by Pam England and Rob Horowitz
The Womanly Art of Breastfeeding
by Diane Wiessinger, La Leche League International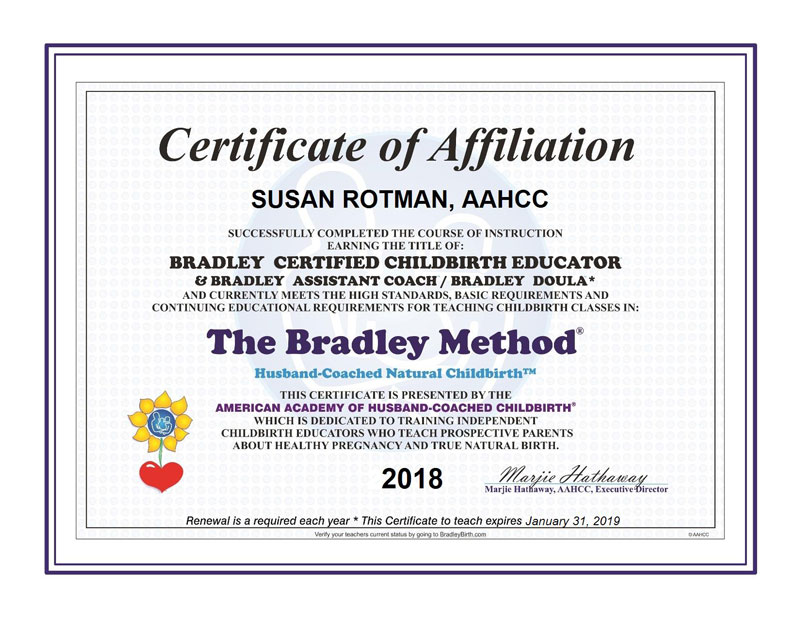 Upcoming Bradley® Classes
No available classes. Check back later!
Chapel Hill classes are taught at the Women's Birth & Wellness Center located at 930 Martin Luther King Jr Blvd in the spacious third floor yoga studio.
Raleigh classes are taught in the comfort of my home located inside the Raleigh 440 beltline between Wade and Glenwood Avenues.  This location is easily accessible to all points in the Triangle.